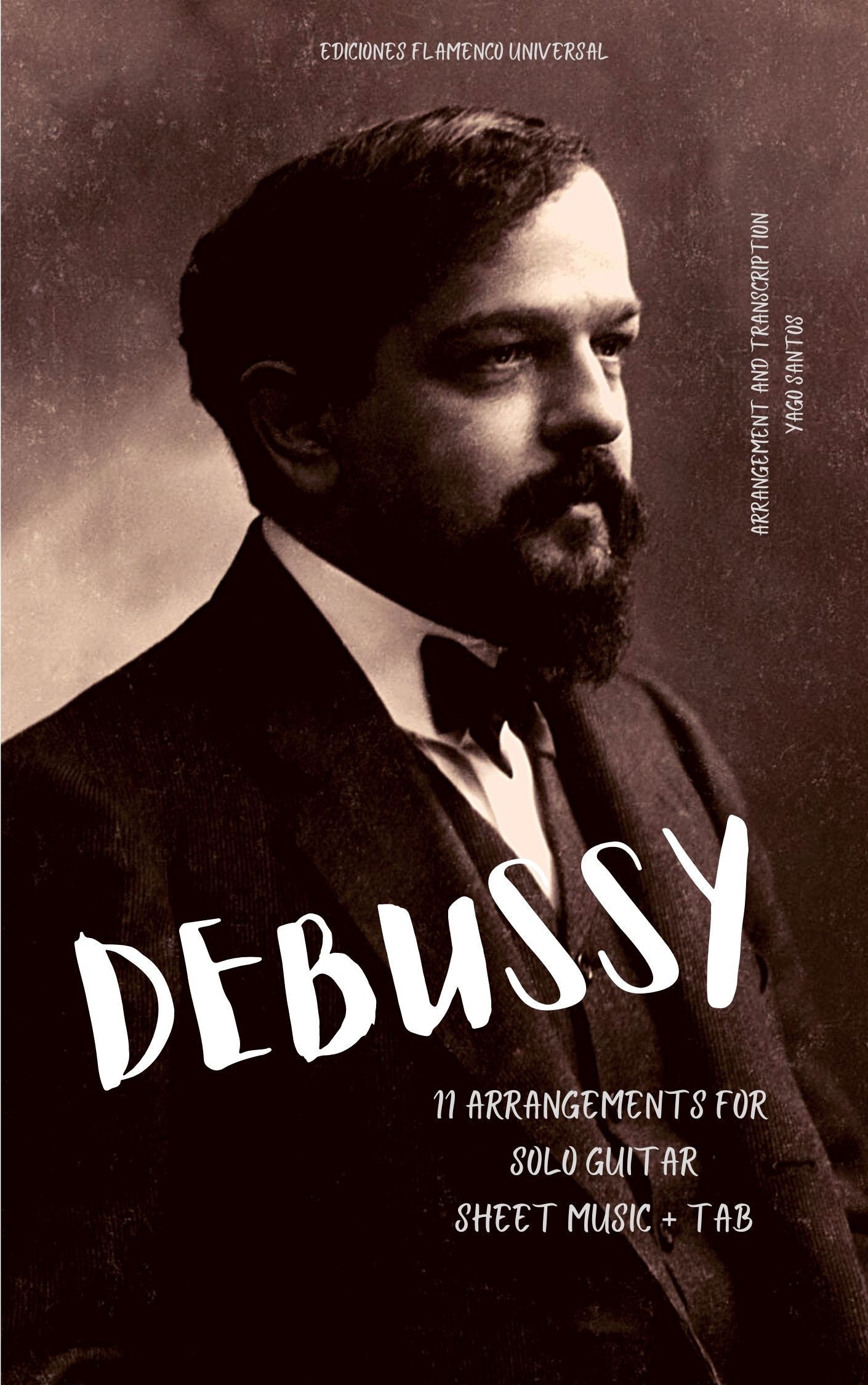 The new book published by Yago Santos is a masterpiece that contains eleven solo guitar arrangements by the world class composer Claude Debussy. For the book Yago have chosen ten piano pieces and a solo flute piece, in which we can appreciate the evolution of the composer through the different periods of his life.
Born to a family of modest means and little cultural involvement, (Achille) Claude Debussy (22 August 1862 – 25 March 1918) remains as one of the most influential composers of the 20th century. Bela Bartók first encountered Debussy's music in 1907 and later said that "Debussy's great service to music was to reawaken among all musicians an awareness of harmony and its possibilities". 
Messiaen was given a score of Pelléas et Mélisande as a boy and said that it was "a revelation, love at first sight" and "probably the most decisive influence I have been subject to". Boulez also discovered Debussy's music at a young age and said that it gave him his first sense of what modernity in music could mean. The pianist Stephen Hough believes that Debussy's influence also extends to jazz and suggests that Reflets dans l'eau can be heard in the harmonies of Bill Evans. 
Debussy accomplished something that happens very rarely, and not in every lifetime: he brought a new kind of beauty into the world. Debussy engineered a velvet revolution, overturning the extant order without upheaval. His influence proved to be vast, not only for successive waves of twentieth-century modernists but also in jazz, in popular song, and in Hollywood. 
The book contains the following arrangements:
1) Arabesque nº1 (Arr. Yago Santos) 
2) La Fille aux Cheveux de Lin (Arr. Yago Santos) 
3) Golliwog´s Cakewalk (Arr. Yago Santos) 
4) Clair de Lune (Arr. Yago Santos) 
5) Danse Bohémienne (Arr. Yago Santos) 
6) Gradus ad Parnassum (Arr. Yago Santos) 
7) Élégie (Arr. Yago Santos) 
8) Minstrels (Arr. Yago Santos) 
9) Le Little Shepherd (Arr. Yago Santos) 
10) The Little Nigar (Arr. Yago Santos) 
11) Syrinx (Arr. Yago Santos)
Buy Link - https://yagosantos.com/the-music-of-debussy