CONTEMPORARY HARMONY AND COMPOSITION
Yago Santos is currently teaching online lessons to guitar players worldwide. Yago´s unique method focuses on teachings related to composition, rhythm study, improvisation and contemporary harmony applied to flamenco guitar. Due to Yago´s professional activity only ten students are accepted per year.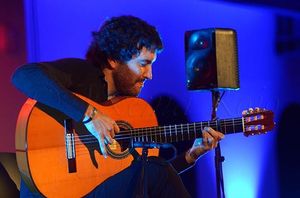 Online lessons are structured in a weekly basis. This way, the student will be able to assimilate all the knowledge and expertise adquired during the previous lesson.   
There are no specific prerequisites to apply for the course; guitar players of all levels and nationalities might be accepted. 
The lessons are taught via Skype or Zoom and the timetable will be scheduled with each student individually in order to find a suitable time for both the student and the instructor. 
TESTIMONIALS
"Classes with Yago have been life changing. His theory classes have not only helped me understand flamenco, they've helped me understand music in general. You will not only learn music theory, you will be able to apply in real life situations especially when improvising."
Marco Antonio Torres
LA, United States
"Me apunte a las clases de Yago porque quería saber más acerca de la composición y armonía flamenca. Después de dos años estudiando con él siento que me ha cambiando totalmente la visión que tenía de esta música. Gracias Yago por tu generosidad e implicación con la enseñanza."
Alejandro Márquez
DF, México
"Hello, my name is Isami Hori and I have been Yago's student for three years. With him I am learning all the theory and practice of flamenco. When I began to study with him my level was quite basic but from the first months of study I noticed an important improvement that gave me the security and motivation to continue. As a foreign guitarist, studying with a figure of the stature of Yago for me is an honor and a luxury for me. He is also a very humble and affectionate person with the student."
Isami Hori
 Tokio, Japón
"Las clases con Yago suponen un salto de nivel tanto a nivel guitarrístico como musical. Su implicación con el alumno es total. Gracias a su método de enseñanza he conseguido comprender lo que toco y me siento con libertad para crear y expresarme con el instrumento de formas que antes veía inalcanzables."
Abraham Padilla
Cuenca, Spain
"Thank you maestro Santos, I have learned a lot in your classes about how flamenco works. Now I feel that I have the tools to create my own language without having to copy anyone."
Hadi Sael
Tehran, Irán
"Increíble maestro y mejor persona. Estoy encantado con las clases y el método que Yago propone, toda una revolución para mí. Gracias Yago por tanto!"
André Montes
Río de Janeiro, Brasil